Tent Rentals Barrington RI
For the best
tent rentals Barrington RI
can provide, plan your next event with After 5 Party Rentals! Our community-focused company is the trusted local source for all things party-related in
Barrington, Rhode Island
, and surrounding areas. Our company makes planning your next event a breeze by offering all of the essential event equipment, including tables, chairs, DJ services, photo booths, games, and quality tent rentals in Barrington RI for affordable prices! With our selection of the finest tent rentals Barrington RI has to offer, you'll be able to find the perfect option to accommodate your gathering, no matter the size. Provide guests with a safe, comfortable, and private space to enjoy themselves at any banquet, fundraising dinner, festival, corporate event, wedding rehearsal dinner, and other special occasions with our exceptional tent rentals and event furniture. Over the years, we've built lasting relationships with small businesses, event coordinators, community organizations, and residents by exceeding expectations with stellar prices, top-notch service, and reliable rentals for all occasions. When you book the tent rentals Barrington RI party planners choose first, you can trust our team of celebration experts to take care of you! We make it as simple and hassle-free as possible to schedule party rental equipment deliveries from the comfort of your home or office. Just browse our available options, add the products you'd like to use to your cart, and check out with a few easy clicks. Give us a call at (401) 423-4228 or book online to take your upcoming party, get-together, or special occasion to the next level!
Reliable and Reasonably-Priced Tent Rentals in Barrington RI for All Events
Our reliable tent rentals in Barrington RI are a great addition to any event! With over fifteen tent rental options, you're able to easily find the tent that perfectly suits the needs of your guests and your budget. Our versatile tents are convenient for all occasions, including proms, bat mitzvahs, sweet 16 parties, quinceaneras, galas, corporate events, fundraiser gatherings, receptions, and banquets, and can even be used to accommodate guests at large events like fairs, festivals, carnivals, and more. No matter the size of your guest list, After 5 Party Rentals is there to make your next celebration unforgettable.

When planning the wedding of your dreams, you can't go wrong when you book our tent rentals in Barrington RI. With many sizes and options at affordable prices, you can find the perfect tent to provide all of your friends and family with a shaded environment to celebrate your special day with you without setting back your budget. We regularly deliver tents to support receptions, rehearsals, bridal showers, and ceremonies. Whether you're looking for a DJ to make sure your reception is unforgettable or wedding tent rentals near me Barrington RI can depend on to keep guests shaded during an outdoor ceremony, you'll find the best selections with our team. Take the stress out of the wedding planning process by booking the most trusted tent rentals for wedding Barrington RI has to offer!
Wide Selection of Party Tent Rentals Barrington RI Can Trust
Find the greatest selection of durable and reasonably-priced party tent rentals Barrington RI hast to offer offer at After 5 Party Rentals. Host any large gathering with our 20' x 40' High Peak Frame Tent at just $900 for up to eight hours of rental time. This tent is waterproof and features an extra tall peak and no center pole, so your guests are provided with extra space to celebrate any occasion.

Seat 32-46 guests with our 13' x 26' Pop-Up Canopy Frame Tent beginning at $249 for up to eight hours of rental time. Give your guests extra protection from seasonal elements and unexpected bad weather with our tent wall kits, or add elegance to any occasion with our canopy leg drapes. When it comes to outdoor tent rentals near Barrington RI, our party rental company's selection and prices can't be beat! Browse our inventory and conveniently book online today with just a few simple clicks.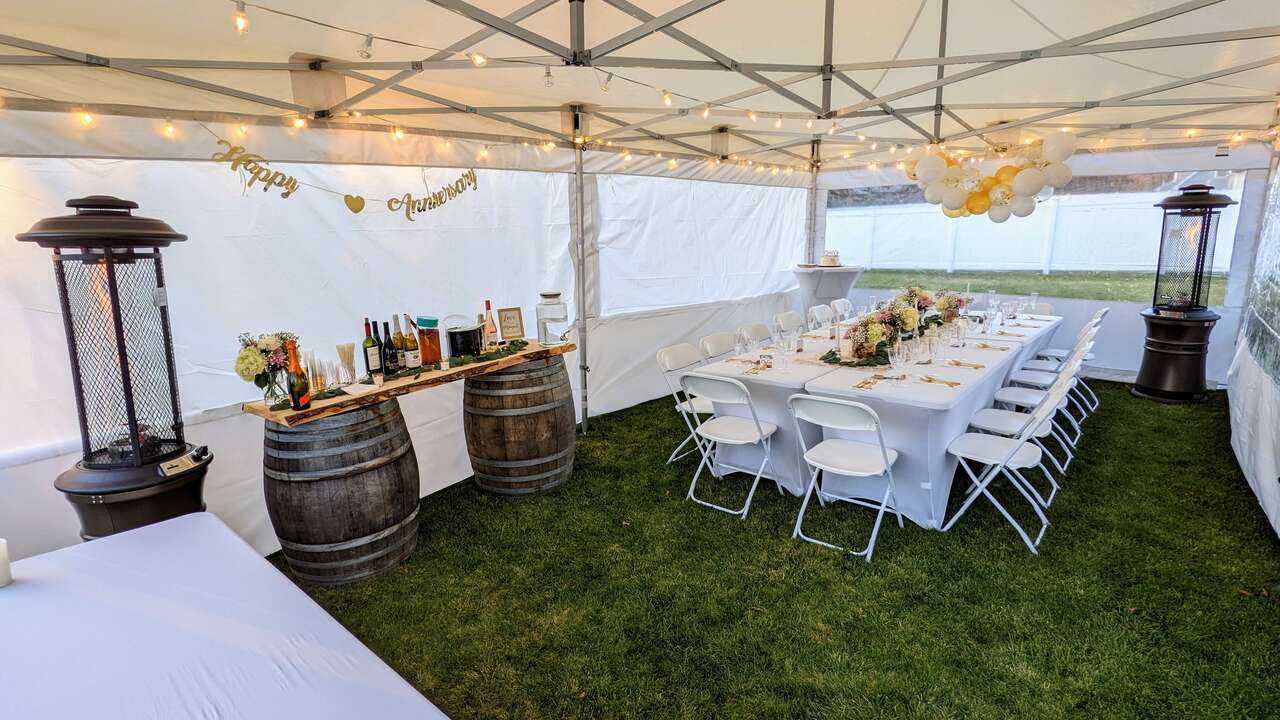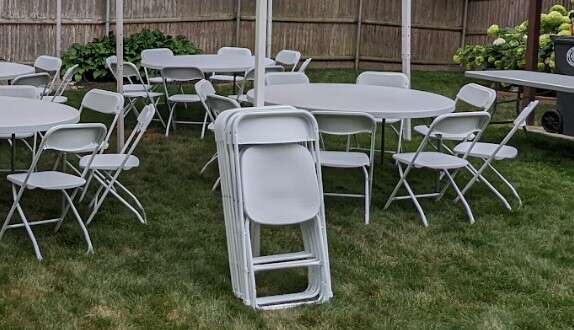 Chair Rentals Barrington Rhode Island Uses at A Range of Events
After 5 Party Rentals carries the most comfortable and sleek chair rentals Barrington Rhode Island has to offer! With various styles and colors to choose from, you're sure to find the perfect chair to suit any occasion or theme—and at a price you can be happy about! Our commercial-grade, top-quality chairs elevate any social function by providing your guests with reliable and comfortable seating without hindering your theme or clashing with decor. When it comes to chair rentals in Barrington RI, you'll receive the absolute best when you book with our team.

Choose the chair rentals Barrington Rhode Island trusts most when planning your next event!
Our white folding chairs, priced at only $2 each, are perfect for any wedding, gala, banquet, fundraising dinner, or corporate event. These sturdy seats can be decorated to match any look, and the white color adds a special elegance and charm to your gathering. If you prefer a darker look, our dark gray folding chairs are also available for just $2 each. If folding chairs don't match the theme you're striving for, book our 30" barstools for the great price of $10 each. These stools feature a sleek gunmetal color and are perfect for cocktail parties, luncheons, fundraisers, and more. No matter what type of event you're hosting, we have the Barrington Rhode Island chair rentals your guests will love! Give us a call or book online today.
Table Rentals in Barrington RI That Won't Disappoint
Ensure your next event is a hit with our premium table rentals in Barrington RI! Our various styles, designs, and accessories make it easy for you to find the perfect tables and event furniture to suit your party theme, gathering size, and budget. Book our 8' banquet table to comfortably seat 8-10 people or to use as a food-serving station. Our 5' round tables are suitable for seating 8 guests at any event. Provide your guests with a more intimate seating option with our cocktail tables. If your event theme has a rustic vibe to it, we have the perfect table for you! Our wine barrel table features a live-edge wooden tabletop held up by two wooden casks and is a wonderful addition to any wedding, outdoor gathering, or themed party. Reserve this picturesque beauty for only $150! Take your upcoming celebration or event to the next level by booking the most trusted Barrington RI table rentals.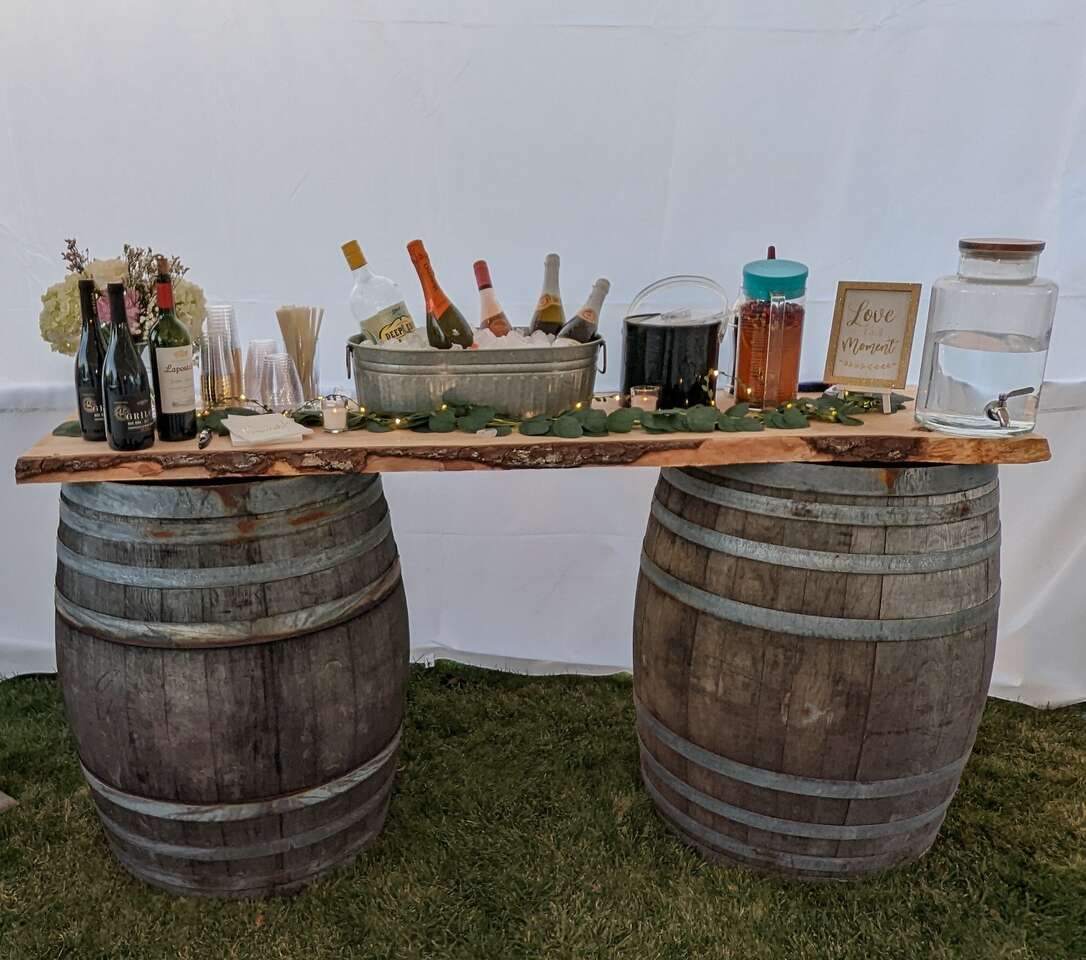 Easily decorate our stellar table rentals in Barrington RI with any of our available sensational table covers. Our spandex table covers come in a variety of colors so you can choose the best fit for your event's theme. These high-quality table covers perfectly fit our round tables, 6' banquet tables, and cocktail tables, so there's no need to worry about any wind hindering your party. Browse our inventory and conveniently book online today to reserve the table rentals Barrington RI event planners choose first!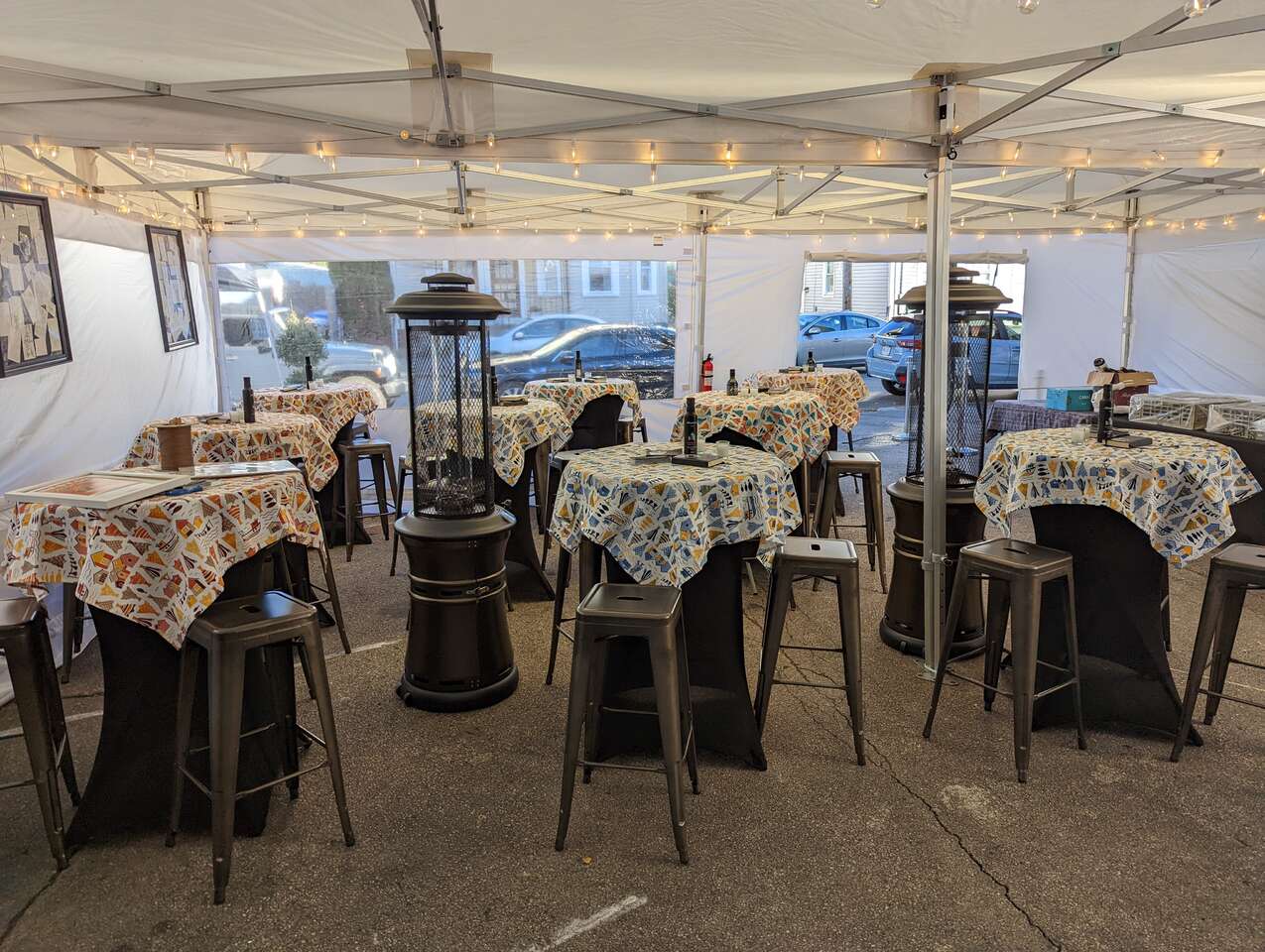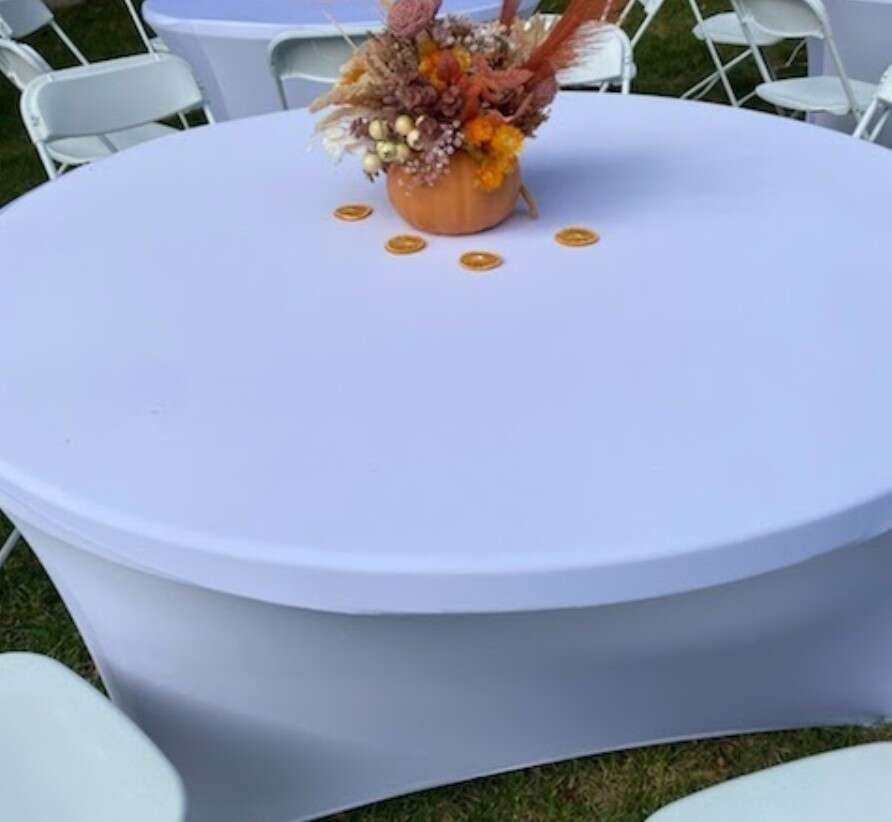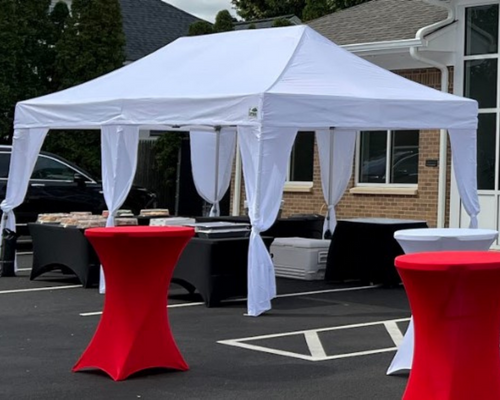 Why Choose Us for Barrington RI Tent Rentals
If you're searching for Barrington RI tent rentals to keep your guests, visitors, or attendees protected from the elements and having a wonderful time at your event, book with the best. Since our founding, our company has used its years of experience, dedication to customer satisfaction and safety, and commercial-grade equipment from reputable manufacturers to become the most trusted local source for all things party-related in Barrington, RI, and surrounding areas. Our team of entertainment experts has worked hard to earn dozens of 5-star reviews and to uphold our glowing reputation for trustworthy equipment, staff, and services.

Our Barrington RI tent rentals company has built positive and long-lasting relationships with our customers, including the Barrington School District and other local businesses, organizations, churches, government offices, families, and commercial enterprises located throughout our community. We find delight in providing our customers with a way to make any cause for celebration a memorable event without worrying about the cost of tent rentals in Barrington RI. When planning your next event, book with a company that cares for you by choosing After 5 Party Rentals for all of your event equipment needs!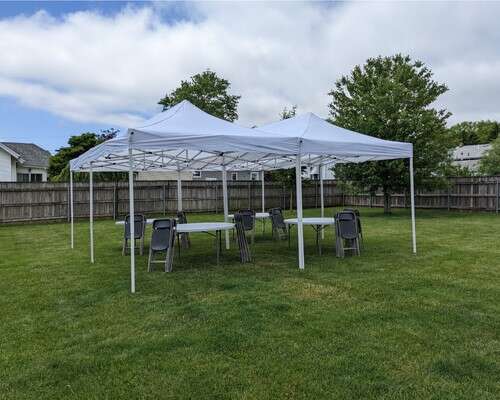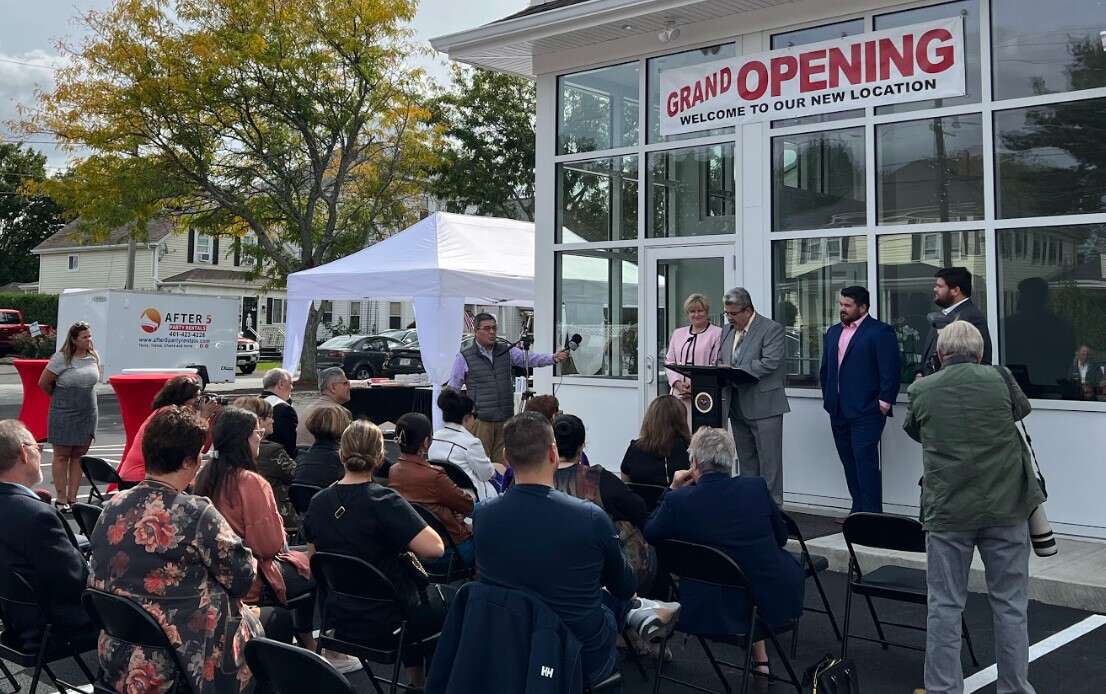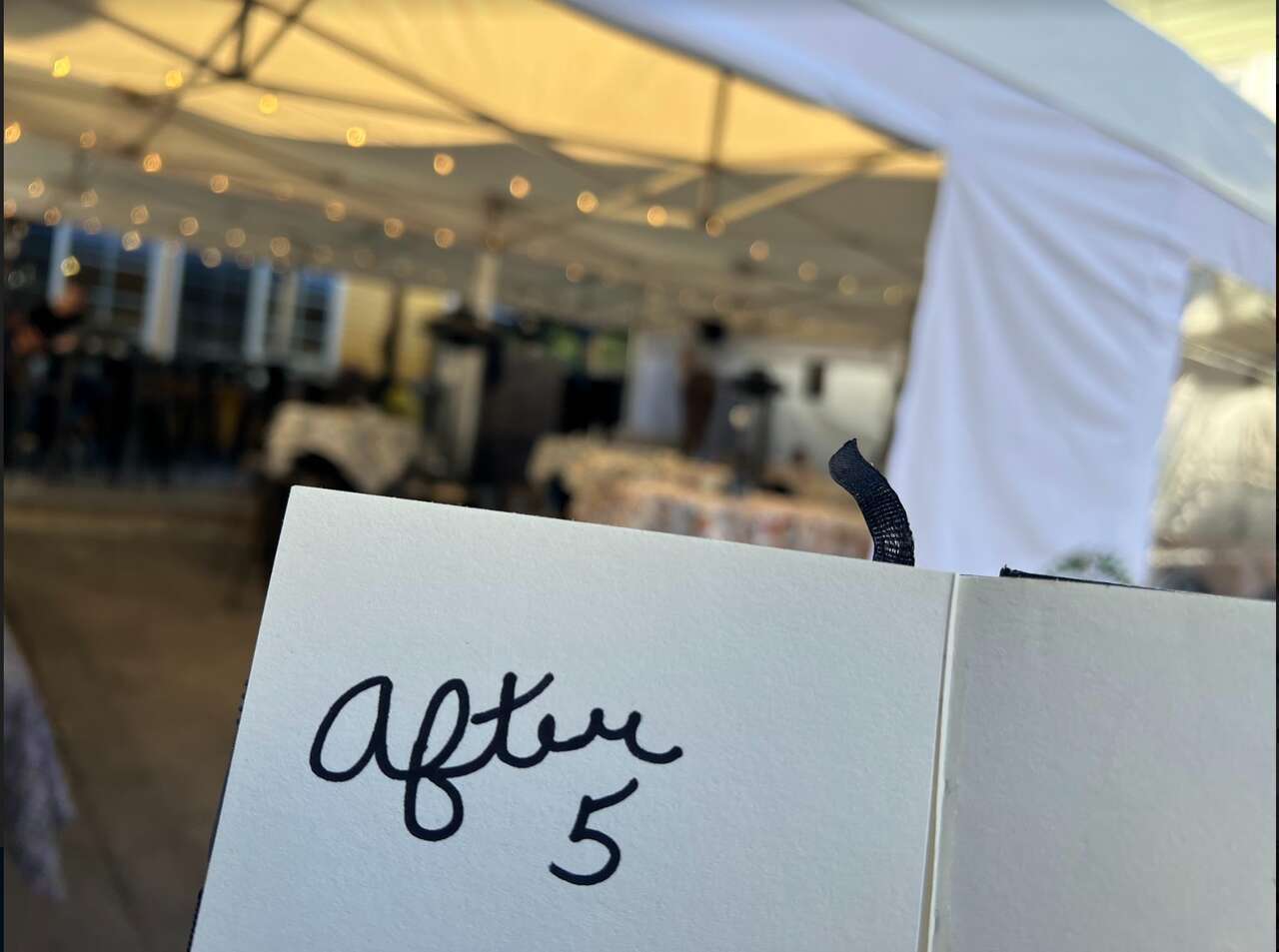 How to Rent a Tent in Barrington RI
When you're ready to rent a tent in Barrington RI, we make the process simple and straightforward so you can get back to party planning! Our modern, user-friendly online booking system allows you to browse our available options, add them to your cart, and check out with a few easy clicks. Simply browse our selection of inventory by category, or easily search for items available on the date of your event. Begin this process by clicking on the "Rentals" drop-down menu in the header bar. This will show the categories of products and services available, as well as the "Order by Date" option.

Once you've found the tent that perfectly suits your event, select the blue "Book Now" button to view more detailed information about your chosen product. Next, click the sky-blue "Add to Cart" button, where you will be able to choose the date of your rental from our online calendar. Finally, provide us with your contact and payment information, and complete the checkout process. You'll receive a confirmation email from After 5 Party Rentals, and one of our staff members will be in touch leading up to the day of the event to confirm a drop-off window that works best for your specific event needs. Once your order has been placed, our friendly team will deliver your selected items to your event, set everything up for you, and show you how to use your rented equipment if necessary.

Our customers can also easily rent a tent in Barrington RI by calling us at (401) 423-4228, at which point our helpful team of party planning professionals will be ready to answer any questions and assist in placing an order over the phone. Book the event tent rentals Barrington RI trusts most by calling or using our online system today!
Delivering Wedding Tent Rentals Barrington RI Uses Year-Round to Surrounding Areas
After 5 Party Rentals delivers the most reliable wedding tent rentals Barrington RI has to offer to the 02860, 02906, 02914, 02915, and 02916 zip codes in Providence County. We also offer
tent rentals in Bristol
, Rumford, Providence, North Providence, Cranston, Pawtucket, Central Falls, Centerdale, Riverside, Cumberland, Darlington, Lincoln, Smithfield, Johnston, Warwick, West Warwick, Albion, Barrington, Greenville, Manville, Hope, Scituate, North Scituate, Glocester, Harmoney, Woonsocket, North Smithfield, Warren, East Greenwich, West Greenwich, Coventry, Slatersville, Mapleville, Glendale, Oakland, Davisville, North Kingstown, Wickford, Chepachet, Harrisville, Forestdale, Portsmouth, Jamestown, Foster, Slocum, Pascoag, Saunderstown, Newport, Tiverton, Greene, Middletown, Exeter, and Charlestown communities in Rhode Island. Our quality rentals are also offered to the Attleboro, Attleboro Falls, North Attleboro, South Attleboro, Seekonk, Rehoboth, Swansea, Somerset, Norton, Mansfield, Foxboro, Foxborough, Dighton, Fall River, and Taunton communities located in Massachusetts. Our people-oriented company offers special accommodations for events located outside of our service area as often as possible for an affordable delivery fee.
By providing the wedding tent rentals Barrington RI can depend on, our company has been able to create lasting partnerships with community organizations, schools, businesses, and other entities throughout our community, such as the Barrington School District, the Barrington Parks Division, as well as local markets, theaters, museums, businesses, residents, churches, and other foundations located in Providence County. Our customers enjoy hosting events at Onna W. Moniz-John Park or Sabin Point Waterfront Park. As your all-inclusive party rental provider, we carry a range of equipment to help you host memorable and magical events, no matter the location. When you need the highest-quality cheap tent rentals Barrington RI can provide, give us a call or book online! As the local choice for party rentals, we guarantee we have the equipment and service you need to host a fabulous, memorable event, no matter the scale or scope.

FAQs About the Most Dependable Tent Rentals Near Barrington RI
If you have questions about the best tent rentals near Barrington RI, we're here to help! We've put together a list of the most frequently asked questions by our first-time customers, which you can browse at your convenience. Check out our list below, and if your question remains unanswered, give us a call at (401) 423-4228 and our friendly team will be happy to provide assistance!
Q.
When does your team arrive to set up the rentals?
A.
Our team will generally arrive one to three hours prior to the event start time to unload, assemble, and ensure you have everything you need to throw a successful and well-attended event! We've made a name for ourselves by providing excellent and efficient service when delivering party tent rentals near me Barrington RI can depend on year-round!
Q.
Is set-up time included in the 8-hour rental time?
A.
No, our team arrives several hours before your event to set up, so you can enjoy the #1 tent rentals near Barrington RI for your entire rental time. We'll be out of your hair long before your guests arrive. If you have specific delivery and pick-up needs, please give our team a call so we can make the proper arrangements.
Q.
How often is your equipment cleaned?
A.
We thoroughly inspect, clean, and sanitize every rental before and after each use, so that every customer can receive their rentals in the like-new condition they deserve. Whether you're searching for tent and chair rentals Barrington RI uses for weddings and banquets or DJ services to take your event to the next level, we carry commercial-grade equipment that won't disappoint.
Q.
How much does it cost to rent event furniture?
A.
Our prices vary depending on a few specifics, including the size of the equipment, rental timeframe, and delivery area. If you're searching for the most cost-effective tent rentals Barrington RI prices, you're in the right place! We offer a vendor tent package that begins at $129 and our options go up from there. We're confident we offer the most affordable tent rentals cost Barrington RI can provide, so browse our website, view your options, and book online today!