Sno-Kone Machine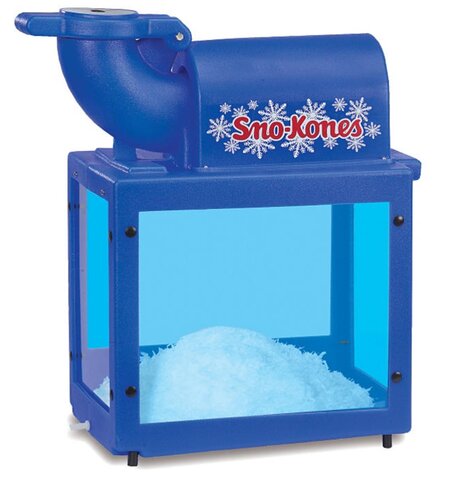 Actual Size: 26"W x 14" D x 29"H
Outlets: (1) 15 Amp Grounded Outlet
Age Group: All Ages-Adult Supervision Required
Description
Are you ready to have the coolest party on the block? Our Sno-Kone ice shaver is here to help! This lightweight machine is built to last with its tough, indestructible cabinet made of low density polyethylene. And because it's insulated and made of non-metal, it won't sweat like other ice shavers. The plexiglass windows let you watch as the ice is shaved into fluffy perfection. Operating the Sno-King is a breeze - simply load the hopper with ice, turn on the power switch, and press the momentary switch while gently applying pressure to the pusher cap. Voila! You'll have perfectly shaved ice in no time.
This bad boy can shave up to 300 pounds of ice per hour (or more, if you can keep up!) It also comes with a drain hose, ice scoop, and dipper. Remember, harder ice creates finer snow while softer ice results in coarser snow. when we arrive with this and your other rental items we will set it all up for you, and show you how to use it. So don't wait any longer - rent our Sno-Kone machine and become the envy of all your friends!
Contact Us for any questions or you can TEXT or CALL us at 401-423-4228 for fast service!
Sno-Kone machine rentals in Rhode island
Our Snow Cone machine rental package includes everything you need for a fun and easy treat experience. We provide the machine, the cones, and one bottle of syrup flavor. The best part? We handle all the setup so you can just sit back, relax and enjoy the refreshing treats!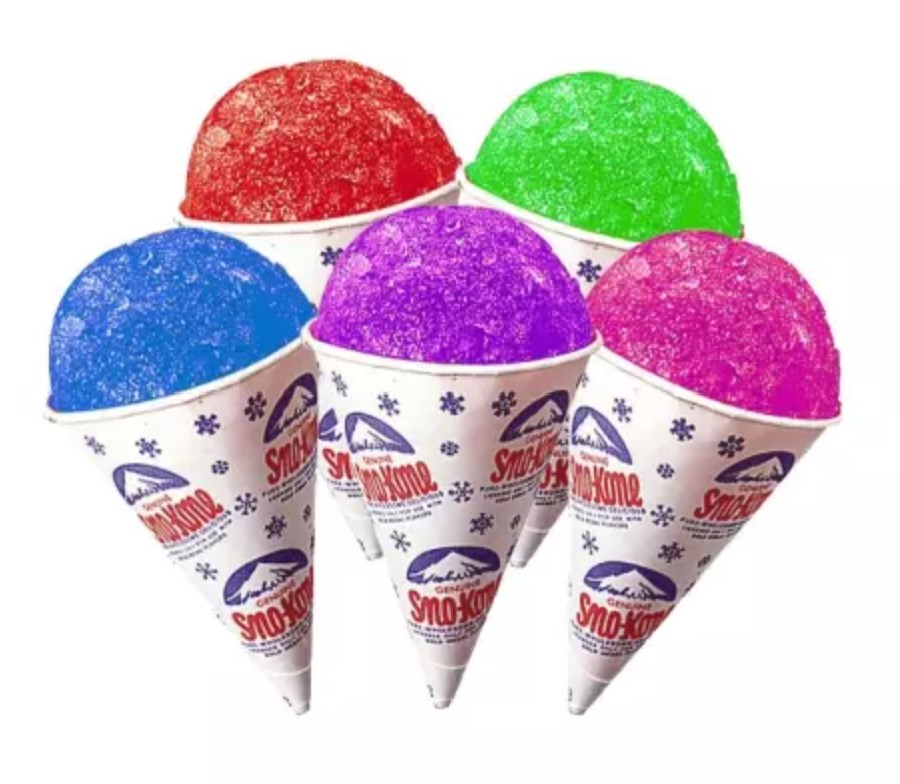 Sno-Kone Rental Includes:


Setup and Take Down


Sno-Kone Machine


Snow Cone scoop


25 paper cones


1 syrup flavor (Choose from Cherry, Blue Raspberry, Lemon-Lime, and Grape)


Instructions:
1. Fill the hopper of the Sno-Kone machine with crushed ice, ensuring that the ice level is within an inch of the top of the hopper.
2. Toggle the POWER switch to the ON position, located on the back or side of the machine.
3. While pushing the MOTOR switch, apply downward pressure to the pusher handle. It's important to apply firm and even pressure to make the best snow. If you apply too much pressure the snow will be coarse, if you apply too little pressure, the snow will be mushy.
4. Use the provided scoop to fill sno-cone cups or other receptacles with the shaved ice and add syrup.
5. Once you have finished using the machine, turn off the power and unplug the machine and empty any remaining ice

We ask the customer to provide or rent a hard surface set-up such as a counter-top or table as well as provide the recommended 10lbs of ice per 25 servings. Last but not least we do ask the customer to provide full supervision for the duration of the event