120-QT Igloo Polar Cooler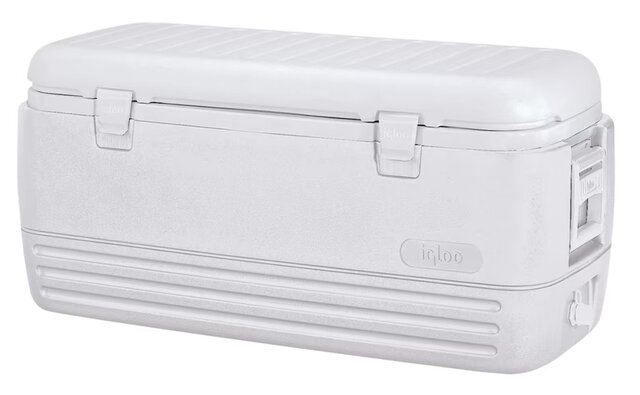 Actual Size: 38.31" x 17.38" x 17.75"
Description
Introducing the Igloo Polar 120 Cooler - the ultimate cooling solution for your next party! Whether you're hosting a backyard barbecue, a corporate event, or a family gathering, this cooler is designed to keep your beverages icy cold and refreshing throughout the entire event.
With a generous capacity of 120 quarts, the Igloo Polar 120 Cooler can hold up to 188 cans, ensuring that you never run out of chilled drinks for your guests. Its durable construction and sturdy handles make it easy to transport, allowing you to conveniently move it from one location to another without any hassle.
The Igloo Polar 120 Cooler is equipped with Ultratherm insulation, which provides maximum ice retention for up to 5 days in temperatures as high as 90°F. This means you can confidently stock up on ice and keep your drinks cold for the entire duration of your party, even on hot summer days.Featuring a convenient threaded drain plug, emptying the cooler after the event is a breeze. Simply remove the plug, and the melted ice will effortlessly drain out, saving you time and effort. The cooler also comes with a lid that can be securely fastened with snap-fit latches, ensuring that your beverages remain cold and protected from any outside elements.
At After 5 Party Rentals, we understand the importance of providing top-notch equipment for your events. That's why we offer the Igloo Polar 120 Cooler as part of our rental inventory. Renting this cooler from us guarantees that you'll have a reliable and high-quality cooling solution for your party, without the need for a long-term investment.Don't let your guests suffer from warm drinks at your next event. Rent the Igloo Polar 120 Cooler from After 5 Party Rentals and ensure that your beverages stay refreshingly cold throughout the entire celebration.
Contact us today to reserve this must-have cooler for your upcoming event!
This cooler is perfect for a variety of events, including:
Outdoor weddings and receptions
Corporate events and conferences
BBQs and picnics
Family reunions and gatherings
Community festivals and fairs
Birthday Parties
Sweet 16's
Graduations
And much more!
Contact Us for any questions or you can TEXT or CALL us at 401-423-4228 for fast service!