Gold Resin Chiavari Chair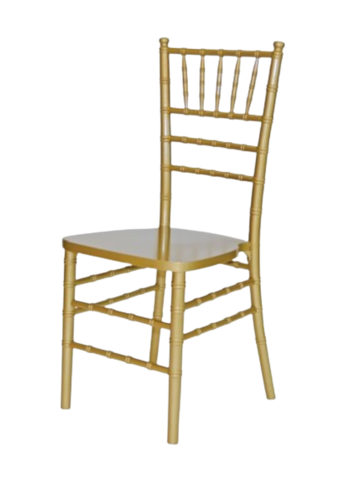 Description
Introducing our exquisite Gold Resin Chiavari Chair, the perfect choice for adding a touch of elegance and sophistication to your next event. Crafted with meticulous attention to detail, these chairs are designed to impress and elevate the ambiance of any occasion.
Constructed from high-quality resin, our Gold Chiavari Chairs boast a stunning gold finish that radiates luxury and glamour. The smooth, glossy surface adds a touch of opulence, making them an ideal seating option for weddings, galas, corporate events, and other special gatherings.
Not only are these chairs visually stunning, but they are also exceptionally comfortable. The ergonomic design ensures optimal support, allowing your guests to relax and enjoy the festivities in style. With their sturdy construction, these chairs are built to withstand the demands of any event, ensuring durability and longevity.
The Gold Resin Chiavari Chairs are versatile and can be easily incorporated into any theme or decor. Whether you're aiming for a classic, modern, or even a whimsical look, these chairs effortlessly blend in and enhance the overall aesthetic of your event space.
At our After 5 Party Rentals, we prioritize customer satisfaction and offer a seamless rental experience. Our Gold Resin Chiavari Chairs are meticulously maintained, ensuring they arrive at your venue in pristine condition. We also provide timely delivery and setup services, taking the hassle out of your event planning process.
Make a statement at your next event with our Gold Resin Chiavari Chairs. Elevate the atmosphere, impress your guests, and create unforgettable memories. Contact us today to reserve these stunning chairs and elevate your event to new heights of elegance and sophistication.
Contact Us for any questions or you can TEXT or CALL us at 401-423-4228 for fast service!