Chafing Pan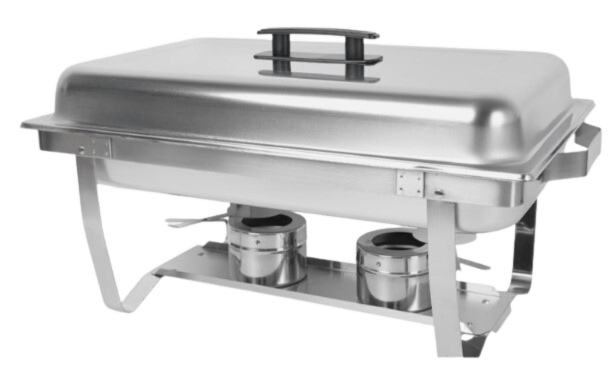 Description
Introducing our premium Chafing Pan, the perfect addition to elevate your next event or gathering. Designed with both style and functionality in mind, this chafing pan is a must-have for any professional caterer, event planner, or even for hosting a memorable party at home.
Crafted from high-quality stainless steel, our Chafing Pan guarantees durability and long-lasting performance. Its sleek and polished design adds a touch of elegance to any buffet table, making it an ideal choice for weddings, banquets, corporate events, and more.
Featuring a generous capacity, this chafing pan allows you to serve and keep your delicious dishes warm for extended periods. The deep and spacious interior can accommodate a variety of food items, from savory main courses to delectable sides and appetizers.
Equipped with a sturdy and easy-to-use lid, our Chafing Pan ensures that your food remains hot and fresh throughout the event. The lid also helps to retain moisture, preserving the flavors and textures of your culinary creations.
Elevate your catering game and make a lasting impression with our top-of-the-line Chafing Pan
This chafing pan is perfect for a variety of events, including:
Outdoor weddings and receptions
Corporate events and conferences
BBQs and picnics
Family reunions and gatherings
Community festivals and fairs
Birthday Parties
Sweet 16's
Graduations
And much more!
Contact Us for any questions or you can TEXT or CALL us at 401-423-4228 for fast service!