150-QT Igloo MaxCold Cooler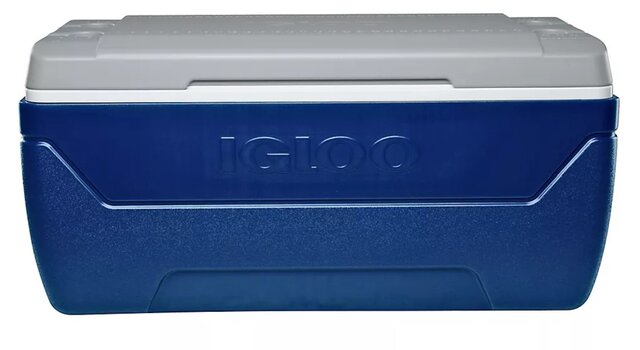 Actual Size: 41.63"L x 18.69"W x 20.25"H
Description
Introducing the 150-Quart Igloo MaxCold Cooler, the ultimate cooling solution for your next party or event! This high-capacity cooler is specifically designed to keep your beverages and food items ice-cold for extended periods, ensuring that your guests stay refreshed and satisfied throughout the entire event.
With its impressive 150-quart capacity, this cooler provides ample space to store a wide variety of items, including cans, bottles, snacks, and even large food platters. Whether you're hosting a backyard barbecue, a corporate gathering, or a wedding reception, this cooler has got you covered.
One of the standout features of the Igloo MaxCold Cooler is its exceptional insulation. The Ultratherm insulation technology ensures maximum cold retention, keeping your drinks and food chilled for up to five days. This means you can confidently set up your party in advance without worrying about the quality of your refreshments.
Durability is another key aspect of this cooler. Constructed with a rugged and sturdy design, it is built to withstand the demands of any event. The reinforced swing-up handles make transportation a breeze, allowing you to effortlessly move the cooler from one location to another. Additionally, the stainless steel hinges and latches ensure secure closure, preventing any unwanted leaks or spills.
Cleaning up after the party is also hassle-free with the Igloo MaxCold Cooler. The easy-to-clean, stain and odor-resistant liner makes maintenance a breeze, saving you time and effort.
Renting the 150-Quart Igloo MaxCold Cooler from our party rental company is a convenient and cost-effective solution for your cooling needs. Our team will ensure that the cooler is delivered to your event location on time and in pristine condition. So, sit back, relax, and let us take care of keeping your guests cool and satisfied!
Don't miss out on this essential party accessory. Contact us today to reserve the 150-Quart Igloo MaxCold Cooler for your upcoming event!

This cooler is perfect for a variety of events, including:
Outdoor weddings and receptions
Corporate events and conferences
BBQs and picnics
Family reunions and gatherings
Community festivals and fairs
Birthday Parties
Sweet 16's
Graduations
And much more!
Contact Us for any questions or you can TEXT or CALL us at 401-423-4228 for fast service!